Rumblings & References Newsletter Volume 2, Issue 3 March 1, 2021
Grand (New Space) Opening!
It's been an adventure getting from the initial Phase One space (before) to the originally invisioned Grand Plan space (after). While access to the new space has already been open for about a week and the entrance door has moved to the "Official Fancy Glass Front Door," we didn't feel like it was "official" enough!
On Saturday, March 6th from 11a-6pm, we're having a 10% off sale to celebrate the Grand Plan opening of the final area of our shop! Items included in the sale will be marked in the store, so you'll have an adventure shopping the sale! And when you stop by, make sure you look for the newly relocated OPEN sign to find the front door to the Grand New Space.We're really excited to share it with you!

New hours starting Wednesday March 17th!
With the longer and warmer days come our Spring and Summer hours!
Starting Wednesday March 17th, Throttle Company will open the following hours:
Wednesday 12-9
Thursday 12-9
Friday 12-9
Saturday 10-7
Sunday 12-6
*Closed Monday and Tuesday*
Call for Swap Meet Vendors!
Do you have parts or accessories to sell or are you a moto-related business looking to vend? We're holding a SPRING Swap Meet on Saturday, May 22nd (10a-2p). Deadline to apply for a spot is May 7th. Click here for the application!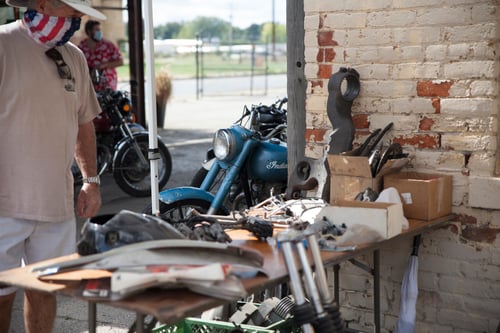 Check it out!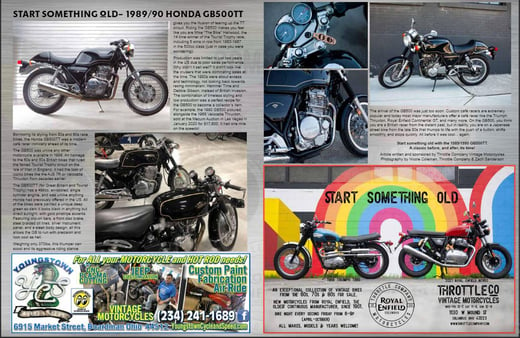 We have an article in the March edition of Thunder Roads Ohio Magazine!  Make sure you check out page 18 for our "Start Something Old" feature article.
2021 Events Calendar 
The 2021 Throttle Company Motorcycle Events Calendar will showcase our own Throttle Company hosted and attended events, as well as a variety of semi-curated motorcycle event announcements on behalf of other groups,etc.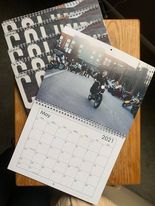 If you like to keep it analog, don't fret! Throttle Company has published our first yearly wall calendar for 2021,as well! You can get yours here or in store! They're on sale for $15/ea in store!

Throttle Company gift cards available in store.
*Physical Throttle Company gift cards are RELOADABLE!*

Want to send an e-gift card now? Click here to purchase a digital gift card (no physical card will be sent). Your recipient will receive an email with a code (if you choose to have it sent directly) or you can write the code on your own card!
Throttle Company Vintage Motorcycles, 1130 West Mound Street, Columbus, Ohio 43223, United States, 614-600-2421